22-23 Cafeteria Pricing Update.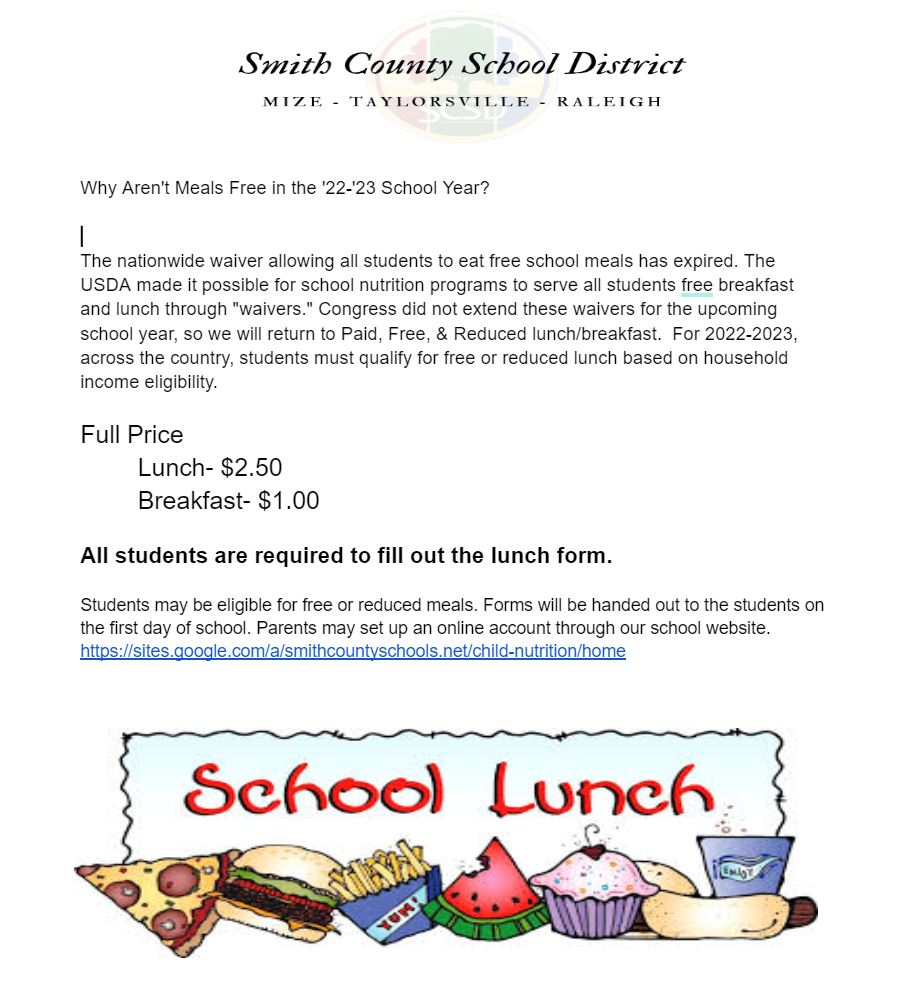 ---
ATTENTION PARENTS:

*** ALL Students must complete a meal

application***

CAFETERIA NEWS 2022-2023

2 WAYS TO APPLY FOR FREE/REDUCED MEALS
#1 Completing a meal application and returning it to
your local school cafeteria or the Smith County Child
Nutrition Office.
THE FREE / REDUCED PAPER MEAL APPLICATIONS ARE AVAILABLE
NOW AT YOUR LOCAL SCHOOL OFFICE AND AT THE
SMITH COUNTY SCHOOLS OFFICE OF CHILD NUTRITION
203 WHITE OAK AVE, RALEIGH, MS, 39153.

#2 Completing a meal application ONLINE at
Smithcountyschools.net AND CHOOSE THE "PARENT" TAB AND
SELECT "MY SCHOOL APPS"
 MY SCHOOL BUCKS
https://sites.google.com/a/smithcountyschools.net/child-nutrition/home
"MY SCHOOL BUCKS" is a feature that parents can choose to
make meal PAYMENTS online to your child's account and
receive low balance notifications by going to
Smithcountyschools.net and CHOOSE THE "PARENT" TAB AND
SELECT "MY SCHOOL BUCKS" OR GO TO myschoolbucks.com.
IF YOU HAVE ANY QUESTIONS PLEASE CALL THE OFFICE OF CHILD

NUTRITION

AT 601-782-4343 OR E-MAIL TO child.nutrition@smithcountyschools.net .
STUDENT MEAL PRICES FOR 2022/2023:
BREAKFAST LUNCH
Full Price:$ 1.00 Full Price $ 2.50
Reduced Price $ .30 Reduced Price $ .40
Charge Policy: Please note that children in grades K-6 can only charge breakfast and lunch for 2
days before getting served an alternate meal. (Every effort will be made to contact a parent before
an alternate meal is given.) Children in grades 7-12 are not allowed to charge.
THIS INSTITUTION IS AN EQUAL OPPORTUNITY PROVIDER